Archive for
April 11, 2011

2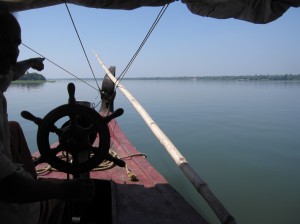 For today's post, I thought I would follow up on my previous entry for this site. If you haven't read it, check it out first, "A Stroke of Grace (My Dad's Story)," and then come back here. In short, my dad was deeply hurt by ministers who falsely accused him, which ultimately caused him to forsake Christianity, and bitterness developed in his heart. This caused much grief in the home – where my mom was following Jesus Christ. After 44 years, my dad finally made a change and made a decision to follow Christ. It was an amazing change. For this entry, I thought I would include 6 insights flowing from our family's experience with my dad's situation. I refrained from saying "my top 6," because I could not reduce this experience to a mere "top six lessons learned," as if that was all there was to it. So here goes:
1) Being Real about Who You Are. Though my dad was not going to church regularly and was quite opposed to Christianity, he was at least true to who he was. I know this may sound strange – that I'm highlighting him not being a believer at one point. What I mean by this, is that so many people go to church, own a Bible, sing songs at church, and call themselves a Christian, but then go and do their own thing and live by their own rules at work, home, and in the world, giving Christianity a bad name. What they say they are, does not translate into who they really are – their character, their priorities in life, how they treat others – their lifestyle – seem to have nothing to do with the label, "Christian." I could at least respect my dad because what he said he was, was who he was. Of course, I would have preferred him to be a dedicated Christian, but I could at least respect him for him being real and true to who he was. It helped me to think about the issues of being genuine in life.
2) Never Let the Foolish Actions and Sins of Others Keep You from God's Best. Growing up, I was always made aware of the fact that my dad was incredibly affected by those who hurt him with their foolish and sinful actions. Don't get me wrong, I do recognize that some of the pain we experience in life will affects us – however, how we respond to those challenges is critical. I have always been aware that family, friends, strangers – and even Christian ministers – may let me down profoundly. Nevertheless, I have sought to be someone who does not let others keep me from the greatest blessing – Jesus Christ – and all that flows out of that most importation relationship in life.
3) The Importance of Character in the Midst of Storms. In the midst of some of the challenges my family faced at times, I was always deeply affected by my mother's relationship with Jesus Christ and her dedication to Him. No matter what we were going through, she would always be in prayer, love us, try to encourage and support the family, and stay positive! Anyone who knows my mom knows her laugh. Honestly, I think it's God that enabled her to stay positive and remain joyful. As the Bible says, "the joy of the Lord is my strength" (Nehemiah 8:10). It is her relationship with God that strengthened her.
4) Respecting Parents Even if you Don't Agree with Them. Though on one hand my mother was passionately serving Jesus Christ, on the other hand my dad was opposed to serving Jesus Christ. How does one honour one's parents, as the Bible makes clear in Exodus 20:12, when they come from two different viewpoints? This stark reality came clear when I felt called to ministry. For me, I've felt it was always important to get both of my parents' blessings for things like my vocation. Anyways, when I felt called to ministry, and was looking to attend a Bible College, I first mentioned this to my mom who was very supportive. But I also wanted to get my dad's blessing – and after a number of days of praying – I did speak to him and he too said he would support my decision – though he reminded me that ministry was not an easy route to choose. I was delighted by his response in light of the situation. However, I recognize that something like this may not be possible with all parents, as I know that some may even want you to disobey God's Word in the Bible. And some parents may even be abusive. In some cases, it may be necessary to consult someone with spiritual maturity (e.g., a pastor) when considering important decisions in life. Nevertheless, with prayer (maybe even asking God to change the hearts of your parents), I think it is critical to try your best to respect our parents and honour them.
5) The Reality and Power of Salvation that Comes through Jesus Christ. After my dad made his change, deciding to follow Jesus Christ, I was amazed – literally amazed – by the change in his character, personality, and general demeanour. While I have had to learn to pray quietly while growing up because of the situation going on, now I could hear my dad praying out loud! And not only that, he was praying for me and the ministry! While I have seen many people throughout the years make commitments to Jesus Christ in churches, this was one time that I witnessed the change first hand. Of course, though, people following Christ – including my dad, myself, and others – are still a work in progress so we're definitely not perfect, but we're seeking to be more like Christ.
6) Timing In Life Can Be a Mystery. I've learned this in other areas of my life, but for my mom to wait 44 years for my dad's change to occur is difficult for many of us to comprehend. She prayed many years for him. And when us kids came along, we prayed too. And there were times we thought "for sure" something would happen after a time of emotional and passionate prayer, however, nothing happened from what we saw. Until 2007 that is. Maybe you've been waiting for something to happen in your life. Don't give up. Keep seeking, keep knocking, keep praying (see Matthew 7:7-8). Isaiah 55:8 reminds us that God's ways are not our ways, so we need to keep praying even if things are not working out the way we think they should.
These lessons learned are not always easy to recognize or follow at times, but I think they are important.
That's it for now. Always a pleasure to hear from you. And if you would like for me to pray about a situation in your life, feel free to contact me.
Josh P. S. Samuel
[This was written with the support of my family, including my dad].