Josh Samuel
This user hasn't shared any profile information
Home page: http://www.LovingGodandPeople.com
Posts by Josh Samuel

7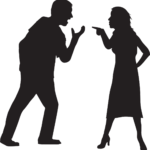 If you're anything like me, you somewhat cringe when you browse news stories online, and see numerous posts unconditionally opposing or loving on some particular politician or organisation. Don't get me wrong, I understand the importance of all of us engaging in the politics of the day, for it's crucial for us to be the "salt and light" in our world, hoping to make our world a better place with God's enablement, for God's glory. And I admit, I'm still growing in my understanding of how we should best live out our faith in light of the political world we live in.
But in light of the political divisions in our society today, let me suggest to you at least two reasons why the approach of some Christians today appears to be troubling for me.
1) It's troubling when it appears that Christians view the world solely/primarily through the views of a particular political party, politician, or organisation, rather than through the good news of Jesus Christ, who is Lord. When Christians view the world solely/primarily through the filter of some politician's view or political organisation we should be alarmed. That's not the way of the Christian. As a Christian, Jesus must be the Lord of our lives. Choosing Jesus as Lord, rather than some political party or politician, means that you live your life in light of the values of God's Kingdom. Thus, your values regularly may not align with the sentiment of our day. Christians view the world through the lens of the good news of Jesus Christ.
Christians march to the beat of a different drummer. He's a drummer who leads us to His mission even when it's not popular. Even when the masses may not be following. It means we are called to care for the poor, the marginalized, newcomers to our nation, the people deemed too "immoral," and the forgotten (e.g., Lev. 19:34; 23:22; Ps. 146:9; Luke 14:13; James 1:27). And if our politics are getting in the way of doing just that, we have to ask ourselves, who really is Lord? Is it really Jesus Christ? Or is it the values of our "anointed" politician or political party?
I'm asking God to help me to better hear and march to the beat of His lead in this politically charged world. I need the Spirit's leading here. I admit that the other drummers around us can be quite loud and confusing. Can I encourage you to invite the Spirit to help you hear and march to the beat of Christ's leading in our world? Even if it means straying from the political perspectives we have often aligned with?
So, this is just a friendly reminder—especially for my Christian brothers and sisters. Jesus is Lord. Not right-wing leaders. Not left-wing leaders. It's Christ. Not Trudeau, Scheer, Singh, or Harper. It's Christ. Not Trump, Clinton, Sanders, or Obama. Not CBC, CTV, BBC, Fox, or CNN. (And if you don't live in Canada/U.S., I'm sure you can fill in who/what those other people/organisations may be in your society).
2) It's troubling when Christians appear to be dehumanizing people based on their political views and lifestyle. Don't get me wrong, there are some views and lifestyle choices that people express that I'm appalled by. But I know that we all fall short of what God expects of us, myself included (Rom. 3:23). However, Scripture makes clear that every human being out there is made in God's image—regardless of whether we like them or not (Gen. 1:27).
So yes, we must follow Jesus over Trudeau, Scheer, Singh, Harper, Trump, Clinton, Sanders, Obama—or whoever. But each one of these individuals, their families, and those who follow them are made in God's image. Life is sacred, and that includes their lives too. You say you hate them? Jesus loves each and every one of them deeply (John 3:16). Deeply. And Jesus says to even love your enemies (Matt. 5:44). You say they are to be cursed? Jesus would say bless them (Luke 6:28). As Christians, we're called to pray for our leaders (1 Timothy 2:1-3). Are we quicker to show hate on facebook or twitter for leaders before we pray for them? Here's the thing. If we start praying for our leaders, their families, and those who follow them, I think God is gracious and can bless them. And if these leaders reflect the God's values of love, justice, mercy, and righteousness in our society, that will be best for all of us (e.g, Micah 6:8).
Don't get me wrong, loving and praying for someone doesn't mean we have to agree with all that they do. I mean, see my first point above—when values fail to reflect what is right, I think we can speak to that. But we need to be careful when we begin to see these political leaders as beyond God's grace—whoever that leader is. Because here's the thing, when we begin to think that those leaders are so stupid, despicable, and beyond God's grace—we become like some of the scribes and Pharisees we see described in the Gospels who felt some people were just beyond God's grace. Jesus had to fix that perspective (Mark 2:16-17). That's why Jesus could sit, fellowship, and bring into his fold someone who was even a tax collector, one of the most despised people among the Jews of Jesus' day. Nothing is impossible with God—and His grace and Spirit can reach and transform any one of us.
I realise some reading here may prefer that I pick a side here: a right or left-leaning political party. Maybe that's what you came here to read. But I'm encouraging you to submit to Christ's Lordship; for that approach will ultimately help us view the world through the filter of those important themes like love, justice, and mercy in a way that no mere human can do for us. And this may lead us to critique various sides of the political debate, which may include our own preferred political view. And this should even cause us to pray for people in leadership out of deep love and care for those who may not hold to your preferred political views. Because at the end of the day, God's Kingdom comes before any other human kingdom out there.

4
My father-in-law, Pastor Easaw Philip/Dad (1945-2017), passed away after a long battle with cancer earlier this month. He was 72 years old. During his funeral, I had a chance to share a few thoughts on my father-in-law, which I would like to share here, with a few additions.
My father-in-law was my senior pastor growing up. I went to the church he pastored as a young person, a Pentecostal church called Zion Gospel Assembly. It consisted primarily of people from India, particularly from the state of Kerala. He pastored there for about 22 years.
Growing up, for some reason—which I didn't realise then—but now have come to understand, I often called him "Pastor Easaw Philip Uncle." That's a pretty long name, I know. "Pastor" make sense, since he was the pastor of the church. But "Uncle"? He wasn't related to me growing up (until now of course, because I am married to his daughter Joyce).
In the Indian community I belong to, calling someone "Uncle" doesn't mean that they have to be related to you in any way. Calling someone "Uncle" or "Aunty" is typically a sign of respect, indicating that they are someone close to your family. Including the title "Uncle" for my father-in-law growing up, I think was an implicit acknowledgement that he wasn't just some pastor who came and went into our lives. Yes, he was our pastor, but he was also someone who was genuinely "there" in our lives for a long time. That long name of "Pastor Easaw Philip Uncle" was a testimony to him genuinely being there in our lives here in Toronto.
A key trait I noticed about him over the years, is his desire to be there for others. He would make himself available to others. He wanted to be physically present for others. He was there.
When I made a public commitment to follow Jesus Christ by being water baptised, he was there. He was the one who baptised me.
When I was sick in the hospital with bronchitis, I admit that at times I was lonely and scared. My family was there. But my senior pastor was also there visiting me with his wonderful wife, who is now my mother-in-law.
When I made a commitment to full time ministry, he was there. Zion Gospel Assembly had a convention around that time, and he quickly allowed me to share my testimony. He was there for me, encouraging me in my call.
When I graduated with my Bachelor's in Theology from Master's College (where I now teach), he was there with my now-mother-in-law.
When I got married to Joyce, he was there. Well, of course he was there because I married his daughter! I'm obviously especially grateful that he was there for Joyce and I, supporting us in that new season for us.
Throughout the years, I've seen my father-in-law passionately desire to be there for so many people. When invitations came for weddings, special church conventions, Christian conferences, or if someone was in the hospital, or if a funeral sadly came up, he really, really, really wanted to be there for others. If he could attend every event in his blue hatchback or white mini van whether in Texas, California, Boston, or Montreal, he would want to be there for you. I know many people who knew him well could attest to that. When he got more sick recently, I know it bothered him that he couldn't be physically present in others' lives the way he did for so many years.
For all of us, whether you are in ministry or not, his desire to be there for others, in person, is something we can all learn from. The Apostle Paul showcased this approach in ministry in Romans 1:11, when he wrote the church in Rome: "For I long to visit you so I can bring you some spiritual gift that will help you grow strong in the Lord." (NLT). Though Paul could correspond with people via letters, letters weren't enough. Emails, facebook posts/messages, and tweets aren't enough. There is something special about being physically present to bless others. My father-in-law was someone who truly longed to be physically present with others, to visit with others, to pray, show honor, respect, and bless others.
But Dad is no longer with us. And now, he cannot come rushing in his blue hatchback or white mini van to visit us at the birth of a child, a wedding, a graduation, a hospitalization, or funeral. It's both sad and strange to not have him around any longer. But one day, when we too pass on, we can go to him. You see, dad is now with His Lord and Saviour, Jesus Christ – forever. And I know Dad well enough to know, that he would like you to seriously consider what he did too—committing to one of the greatest things you can experience in this world. When our time comes, and we too pass on, Dad will want to see you. And he would want me to tell you to come to know Jesus Christ as your Lord and Saviour – just as he did. Dad wasn't "there" for others merely because he was a "nice guy"—he had experienced the life-changing transformation that comes through relationship with Jesus Christ. You see, Dad treasured his relationship with Jesus, and made relationship with God a priority in his own life and family. For instance, getting to know the family since being married, I witnessed how every evening, the family would come together for songs of worship and prayers to God.
You should know that regardless of your past, your sins—and even what you or others think of you—Christ will forgive you of all your sin. Confess your sins to Him and He will forgive you. Turn to God with all of you. Jesus Christ loves you. Jesus died on the cross for our sins. But Jesus didn't remain dead in the grave. He defeated death, resurrecting from death. And as we live for Christ, that same power that resurrected Jesus from the grave will also be manifest in us so that we too will experience a resurrection (see 1 Corinthians 15). If you make that commitment to live for God, I know that one day you too will enjoy relationship with God eternally. And of course, I know you'll meet my father-in-law there. Feel free to contact me if you would like to discuss that type of decision further.
For those who may have known my father-in-law, you are welcome to share your own tributes of when he "was there" for you as well below in the comments. And of course, maybe you didn't know my father-in-law, and you too had or have someone who "was there" for you-feel free to share your experience below.
2
It's Valentine's Day, and I know that there are some out there who absolutely cringe when this day comes along. Singles are often left feeling like they have something wrong with them because they aren't with someone today. I thought today would be a good day to encourage the singles out there. A few years ago, I wrote a blog post on the subject of being single, which you can check out here: "Before Being Married." And a number of years ago, while single, I was actually interviewed for a short TV documentary on being single. Check it out if you're interested: .
2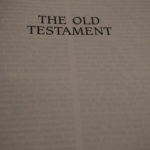 I heard about a preacher who came to my city a while ago, and preached that we didn't really need to read or apply the Psalms to our lives since it's from the Old Testament and not necessary for us Christians. I also read an article, written by a Christian author, which stated that we as Christians need to move away from the Old Testament, and on to the New Testament because of the cross; for him, it seems that the Old Testament is about laws, while the New Testament is about grace.
A negative approach to the Old Testament is nothing new. Many years ago, a man by the name of Marcion didn't like the Old Testament either—he felt it represented an evil, inferior god, while the New Testament god found in Jesus was a loving and good god.
There is much to say about this subject, and I'm limited here since this is just a short blog post—there are some books out there you can read on this. But let's consider two major ideas on this to spur us even further to a deeper reflection on this issue.
1) The God of the Old Testament is the Same God of the New Testament. This has a number of implications that are relevant for our discussion:
a) Believers depended on God's grace in the Old Testament. Relying on God's grace didn't just begin in the New Testament. Think about the '10 Commandments.' If you read them in Exodus 20, and get right to the "laws" in verses 3 onwards, you'll miss something that comes immediately prior to the relaying of those 10 commandments—grace!
Here is God's message in the verse that comes immediately prior to the 10 commandments: "I am the LORD your God, who brought you out of Egypt, out of the land of slavery." God in His grace delivered believers prior to their reception of the law! They were brought into this context not by hearing the laws, nor by living up to the laws, but by God's gracious act of deliverance. We can often miss this point when discussing God's laws for believers—these same believers were dependent on God's grace.
b) God's character, which we often think of as "loving" because of the revelation of Jesus, has always been characterised by love. In Psalm 86:15, found in the Old Testament, the writer reminds us of God's character: "But you, Lord, are a compassionate and gracious God, slow to anger, abounding in love and faithfulness."
c) The God we find in the Old Testament, who reveals His judgment against sin and unrighteousness, is the same God we find in the New Testament who does the same.
Some people often think of Jesus as soft, meek, and mild—but see the God of the Old Testament as a tough and aggressive entity. But during a time when Jesus was entering the temple courts, He felt some were making that place into a "den of robbers," instead of a "house of prayer." What did He do? He overturned tables, made a whip, and drove everyone out! (See Matthew 21:12-13; John 2:13-17). Jesus is not exactly meek and mild!
And of course, Scripture makes clear that Jesus will judge every person in a time to come (Matthew 25).
2) Jesus Affirmed the Need for and Importance of the Old Testament.
a) Jesus was not trying to eliminate the Old Testament, but was about living in fulfillment of all that it said about Him. In Matthew 5:17, Jesus explains, "Do not think that I have come to abolish the Law or the Prophets; I have not come to abolish them but to fulfill them." That's a pretty self-explanatory passage.
b) Jesus explained that the greatest commandments of loving God and people as yourself was based on the Old Testament. When someone asked Jesus what the greatest commandment was, Jesus' response is revealing: "Jesus replied: 'Love the Lord your God with all your heart and with all your soul and with all your mind.' This is the first and greatest commandment. And the second is like it: 'Love your neighbour as yourself.' All the Law and the Prophets hang on these two commandments" (Matthew 5:37-40). These commandments are based on the Old Testament, and are explicitly found in Deuteronomy 6:5 and Leviticus 19:18.
I recognize that this subject brings up so many other issues that are worthy of consideration, which I'm unable to address in a short post here. I know there is so much more to say. My attempt here was just to recognize the importance of the Old Testament for Christians, particularly noting its continuation with the New Testament. I'm open to further discussion if you like!
All the best to you, always a pleasure to hear from you!
Josh Samuel.

0
Last month I had the chance to share on one of the sayings of Jesus on the cross for a Good Friday service at Agincourt Pentecostal Church. I was assigned the phrase, "It is Finished." I was grateful for the opportunity to share on this important saying of Jesus. Six other ministers also did a fantastic  job sharing on the other sayings of Jesus on the cross.  Sharing at Agincourt Pentecostal Church really was an honour, as it is one of the churches I often attended growing up. Click the link below to hear that message I shared:

If you would like to see all of the seven ministers sharing on the seven sayings of Jesus on the cross, click this link: Seven Sayings of Jesus on the Cross by Seven Different Ministers at Agincourt Pentecostal Church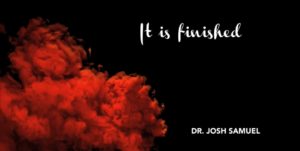 6
How often do you sit, kneel, lie in bed, or stand for prayer and find yourself struggling? Struggling to find something to say to God beyond the same worn out phrases? Struggling to think of something fresh for once? I've been there.
If you're a Christian, you know that we need to pray. Like M.C. Hammer once rapped, "We got to pray, just to make it today." I know, I'm dating myself quoting M. C. Hammer, but some things are hard to forget. Of course the Apostle Paul stated, "Devote yourselves to prayer, being watchful and thankful" (Colossians 4:2; NIV).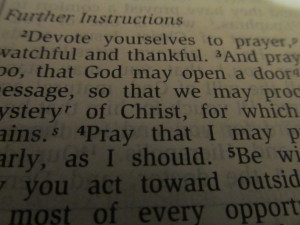 Jesus reminded His disciples of the need to pray and not give up on coming before God with our needs in prayer (Luke 18:1-8). But what happens when prayer seems to become so routine that you feel like you're just saying the words and forgetting what is behind those words?
May I encourage you to change things up here and there? If you would like to consider two ways to freshen up your prayer life by changing the context, keep reading.
1) Walk and pray. Why not go outside, in the midst of God's incredible creation, and bear your heart out to God? Don't worry about looking crazy. Have you seen the number of people on Bluetooth headsets talking to someone and looking real crazy? I have. If people can get away with talking to someone on a phone you can't see, surely you can walk and pray. Of course, you don't have to talk out loud to God, especially if people are around—and especially if you're confessing sin. Praying while walking can remind you of how great God is, for as Romans 1 reminds us, creation reveals God's "eternal power" and "divine nature."
2) Write out your prayers. Every day many of us are writing emails, Facebook posts, and text messages. Why not write out your prayer to God? Writing out your prayer to God will help you get out of those ruts of saying the same thing over and over again. When you write out your prayers, it forces you to carefully articulate yourself before God. A journal may be a good place to write out your prayers before God. Think about this: the Psalms, for instance, are written out prayers before God! All we are doing when we write out our prayers before God is joining a tradition found in Scripture.
I know there are many other ways of praying, but the two above are worth a shot to change things up. If you would like to add some more ways you find helpful for keeping your prayer-life fresh, feel free to add them in the comment section below. Would love to hear from you.

2

I can't believe it's been over a year since I last posted here, but there is good reason. By God's grace, I joined Master's College and Seminary (Peterborough, Canada) full-time as a professor of Bible and Theology in June of 2014. This past year I have been quite busy adjusting to my new role teaching new courses. Coming back to Master's College in this role is a privilege for me, as Master's played a very important role in my formation as a disciple of Christ. I began studying theology formally at Master's several years ago. When I attended this school, it was called Eastern Pentecostal Bible College. I completed a Bachelor of Theology here with a pastoral major in 2000. Let me take a moment here to explain my involvement at Master's, beginning as a student.
Looking back at my time several years ago as a student at Master's, there are a number of things I remember. One of the key things that kept me at the school, was the excellent faculty and staff. I can't help but think of people who served there when I attended – people like Merv Anthony, Rosemary Assels, Gordon and Marlene Bjorgan, David Boyd, Scott Bullerwell, Ewen Butler, Betty Funk, Graham Gibson, Randall Holm, Doug and Sue James, Bob Johnson, David Kennedy, Steve Kennedy, Terry Kennedy, Paul and Lynn Kohls, Lyman Kulathungam, Ronald Kydd, Nil Lavalee, Verdell Longstaff, Ralph Lubbers, Joan Mann, Gaetanne Marshall, Lewis and Lydia Massireli, Garry Milley, Ron Powell, Badoora Rambaran, Shayne Scott, Carol Siret, John Stephenson, Carl Verge, and many others! (My apologies to anyone I may have failed to mention). I know that's a long list of names, but people are important, and I think having good people is one of the key elements that helped make my time at the school great. Master's was also one of the key places I learned more about Scripture, theology, and the practice of ministry. I also forged some great relationships with fellow students from the school over the years.
After a number of years, while I was pastoring, I was asked to teach a course for the school's intercultural stream in 2006 when the school was in Toronto. This was my first experience teaching at Master's, and I was grateful for the opportunity. In 2011, I taught another course as an adjunct faculty member, and by this time the school had returned to its Peterborough site. I still remember the first day I taught at the main campus in Peterborough in 2011—I could sense that there was a great sense of community among the students, staff, and faculty. And when I taught again at the beginning of 2014 as an adjunct faculty, I noticed how well the school was running administratively. I don't say all these things because I'm now a faculty member at the school—I just couldn't help but notice these positive developments.
Don't get me wrong though, adjusting to full time teaching has been a huge learning curve for me this past year. I have had very little sleep over this past year due to preparing courses, marking, etc. in my new role. But most people who have taught all say that the first year is the most difficult. I'm thankful for God's grace over this past year. God has blessed me with a supportive family who have prayed, blessed, encouraged, and made adjustments to make things work—I'm grateful for each person [especially my wife, eldest son (our second one just recently arrived, who I am also grateful for), parents, parents-in-law, sisters, siblings-in-law, nephews/nieces, and many more].
There are excellent people at the school now too. The leadership of the school has been incredibly encouraging and supportive—they are genuine and intentional in their care for others. In all my interactions with the faculty, I have been blessed by their very collegial approach—they want you to succeed, whether you are a student or teacher. I'm grateful for this. And all the staff in general have been very professional and accommodating, which I find an important feature for a school's administration. Finally, I've been quite impressed with the range of students who attend the school—for underlying their various strengths, I see a heart to serve God and others.
There are so many people at the school to thank for being so hospitable—staff, faculty, students, the board of governors, and so many more associated with the school. It would be difficult to name every person, but let me at least acknowledge the college council at the school. Thank you Robin Adair, Merv and Flora Anthony, Rosemary Assels, Owen Black, Donna Butler, Ben Cochrane, Chris Chase, Esther Dillabough, Nathan Flight, Graham and Linda Gibson, Donna Haug, Sue James, Rich Janes, Luciano Lombardi, Katelyn Mueller, Peter Neumann, Kathie Quinn, Ruth Sadlier, Julie Sejrup, Nancy Warwick, Laura Wilson, and Eldon Wright (once again, my apologies to anyone I failed to mention).
I'm grateful to be a part of a school that serves the Church by caring deeply about students and ultimately training leaders for various types of vocations. If you're interested in studying theology and preparing for Christian leadership at the undergraduate level, check out Master's College. I would highly recommend the school, and would be happy to help you get more acquainted with the school if you would like to attend. And definitely check out www.mcs.edu if you're interested!
4
It's been a very long time since I've posted anything on this website—but it's been for good reason. Over the past couple of years, I needed to focus on writing my dissertation—over 300 pages worth of writing! I needed to take a bit of a break from writing here. By God's amazing grace, however, I completed my dissertation and graduated with my PhD in Christian Theology from McMaster Divinity College last month! Thus, I hope to get back at writing on an ongoing basis more on this site. I thought that sharing some thoughts on my PhD experience here would be a good way to transition back to writing here.
I'm grateful the excellent PhD program, faculty, and staff at McMaster Divinity College. The structure of the PhD program is great, because it facilitates academic rigour, excellent ongoing mentorship, service, and the professional development of scholars. Don't get me wrong, completing a PhD has been one of the most difficult things I've ever done. You can, however, find a place to complete a PhD where you will be challenged academically and be in the context of a supportive community that wants to be faithful to God and His Word—I found McMaster Divinity College to be that place. I would highly recommend this school if you are considering a PhD in Theology. The school is in Hamilton, Ontario, Canada, and their website is www.mcmasterdivinity.ca.
I learned a lot over these past few years, and hope to articulate some of those lessons on this space at some point in time. But for now, I'd like to share a video that includes some of my thoughts on my experience in the PhD program at McMaster Divinity College. On graduation day, McMaster Divinity College not only conducts a Convocation when students receive their degrees, but the school also conducts a Service of Celebration earlier in the day. During the Service of Celebration, I was one of the students asked to share about my experience in the PhD program at the school. The video is less than five minutes long, so if you're interested in watching it, here it is (special thanks to my wife Joyce for recording it, and my niece Krystal for editing the video):

2
I'm fascinated by what's going on in the NFL because of Tim Tebow's influence on the sport this year. If you don't know already, Tebow is a quarterback for the Denver Broncos, who happens to be an outspoken Christian.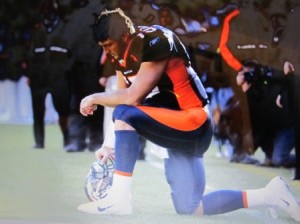 His prayer stance at games have become a sensation, so much so, that people imitate his prayer stance in all types of places—around the world! It's referred to as "Tebowing"—how amazing to think that someone's last name is associated with prayer! Tebow regularly thanks "Jesus Christ" for all He's done for him. And interestingly enough, he has led his team to some spectacular wins this season—he's seen some success.
Of course, I don't know Tim Tebow personally. I don't know that much about who he is as a person, or as a Christian—other than from what he says and how he conducts himself in the context of football games. I do, however, appreciate his boldness.
I couldn't help watching Tim Tebow and the Denver Broncos play Tom Brady and the New England Patriots a few weeks ago—and they are set to play each other again in this year's playoffs! The first time they met, Tebow and his team lost, but that game had the highest ratings for all NFL games this regular season. I have been considering a few things surrounding Tebow's rise.
1) I told my wife—I kind of feel bad for him. Not because he's outspoken about his faith in Christ. More so, is that I know that whenever people are outspoken like that, they will generate a lot of criticism—and constant scrutiny. People will try to look for holes in his armour. And the thing that the Bible tells me clearly, is that "all have sinned and fallen short of the glory of God" (Romans 3:23). If you want to find fault—whether it is with Tebow or any other Christian—after a thorough search, you can find it. No one is perfect—whether you are Christian or not. A Christian doesn't claim to live the perfect life. Being Christian is partly an admission that you're a sinner in need of a Saviour—Jesus Christ—who forgives, and who you can know personally.
Some people not only want to criticise outspoken people, and scrutinize their every action—but they will try to bring them down precisely because they have taken such a bold stand for their faith in Christ. Sometimes it's because of jealousy, or because they have a different view on life, or various other reasons.
We see it in the Bible—the prophet Daniel was not only successful in all that he did, but was utterly committed to his faith in God. And what happened? People around Daniel wanted to bring him down—he was ultimately put in a lion's den (see Daniel 6). John the Baptist was quite outspoken, and he was ultimately beheaded (see Mark 6). Of course, Jesus was quite outspoken, and what did the religious leaders want to do? Bring him down—we know what happened to Jesus.
2) I also remember thinking to myself while watching Tebow play against the Patriots a few weeks ago—will prayers help Tebow win? Because if he wins, maybe more glory goes to God, especially since Tebow's so outspoken about Christ? But as I thought that, I remembered that winning in life does not always lead to God's best. It can sometimes—but not always.
Often, it is "losing those games in life" that ultimately produces the quality of person God is hoping for us. Sometimes "losing" is "winning." The Apostle Paul wrote that we should "glory in our sufferings, because we know that suffering produces perseverance; perseverance, character; and character, hope" (Romans 5:3-4). In the case of those stories in the Bible I mentioned above, we know that from eternity's perspective, though they went through trials, things ultimately turn for good.
So why my title for this blog? "Tebowing for all the Tebows out there?"—praying for people like Tebow? It's just to remind us, that those who live outspoken for their faith—whether it is Tim Tebow, a Christian leader, or your friend—need your prayers. They are human, and thus imperfect—and they are often the ones people are looking to criticise, scrutinize, and ultimately bring down. So prayer for such people is not merely about "winning every game." More so than that, is about asking God to strengthen them to be all God wants them to be in the midst of their "wins" and "losses."
Thanks for reading, always a pleasure to hear from you!
Josh Samuel
P. S. If you switched from the old email subscription to the new one, thanks! If you receive email updates regularly from my blogs, but haven't made the subscription change yet, check my last post: Email Subscription Change.
3
Hi everyone, I'm just making a slight change here regarding subscription to this blog through email. My apologies for this inconvenience. But if you have been receiving these blog posts via email over the past year, it would be greatly appreciated if you could follow these two simple steps in order for you to continue to receive updates appropriately. And no pressure if you're not interested in receiving updates via email.
1) Register for this new subscription. If you would like to continue to receive updates via email—or if you would like to begin to receive updates via email—please click this link and enter your information: Subscribe to LovingGodandPeople.com. Or just enter your email to subscribe on the website–it's near the top right of the home page. Don't forget to activate the subscription when you receive your first email in your inbox regarding this—it will arrive shortly.
2) Unsubscribe from the old subscription. If you are reading this post via email, please unsubscribe from this current means of receiving updates. Just go to the bottom left corner of this email, and click the link where it states, "To stop receiving these emails, you may unsubscribe now." This is to ensure you don't receive duplicate updates from this site in the future—I would hate to bother you by you getting too many emails via this blog. You will get updates when you register with the new subscription I directed you to in point 1 above.
If you have any questions regarding this, just click this link to contact me: "Contact Josh."
Finally, thanks to all of you who have encouraged me to write here! I hope to be sending out my latest blog post shortly! I know it has been a while since I have posted something. Blessings, and always a pleasure to hear from you!
Sincerely,
Josh Samuel.
Josh Samuel's RSS Feed