Posts tagged
prayer

6
How often do you sit, kneel, lie in bed, or stand for prayer and find yourself struggling? Struggling to find something to say to God beyond the same worn out phrases? Struggling to think of something fresh for once? I've been there.
If you're a Christian, you know that we need to pray. Like M.C. Hammer once rapped, "We got to pray, just to make it today." I know, I'm dating myself quoting M. C. Hammer, but some things are hard to forget. Of course the Apostle Paul stated, "Devote yourselves to prayer, being watchful and thankful" (Colossians 4:2; NIV).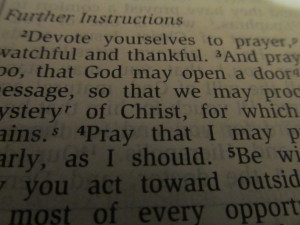 Jesus reminded His disciples of the need to pray and not give up on coming before God with our needs in prayer (Luke 18:1-8). But what happens when prayer seems to become so routine that you feel like you're just saying the words and forgetting what is behind those words?
May I encourage you to change things up here and there? If you would like to consider two ways to freshen up your prayer life by changing the context, keep reading.
1) Walk and pray. Why not go outside, in the midst of God's incredible creation, and bear your heart out to God? Don't worry about looking crazy. Have you seen the number of people on Bluetooth headsets talking to someone and looking real crazy? I have. If people can get away with talking to someone on a phone you can't see, surely you can walk and pray. Of course, you don't have to talk out loud to God, especially if people are around—and especially if you're confessing sin. Praying while walking can remind you of how great God is, for as Romans 1 reminds us, creation reveals God's "eternal power" and "divine nature."
2) Write out your prayers. Every day many of us are writing emails, Facebook posts, and text messages. Why not write out your prayer to God? Writing out your prayer to God will help you get out of those ruts of saying the same thing over and over again. When you write out your prayers, it forces you to carefully articulate yourself before God. A journal may be a good place to write out your prayers before God. Think about this: the Psalms, for instance, are written out prayers before God! All we are doing when we write out our prayers before God is joining a tradition found in Scripture.
I know there are many other ways of praying, but the two above are worth a shot to change things up. If you would like to add some more ways you find helpful for keeping your prayer-life fresh, feel free to add them in the comment section below. Would love to hear from you.

2
I'm fascinated by what's going on in the NFL because of Tim Tebow's influence on the sport this year. If you don't know already, Tebow is a quarterback for the Denver Broncos, who happens to be an outspoken Christian.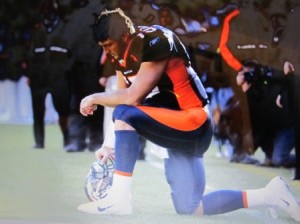 His prayer stance at games have become a sensation, so much so, that people imitate his prayer stance in all types of places—around the world! It's referred to as "Tebowing"—how amazing to think that someone's last name is associated with prayer! Tebow regularly thanks "Jesus Christ" for all He's done for him. And interestingly enough, he has led his team to some spectacular wins this season—he's seen some success.
Of course, I don't know Tim Tebow personally. I don't know that much about who he is as a person, or as a Christian—other than from what he says and how he conducts himself in the context of football games. I do, however, appreciate his boldness.
I couldn't help watching Tim Tebow and the Denver Broncos play Tom Brady and the New England Patriots a few weeks ago—and they are set to play each other again in this year's playoffs! The first time they met, Tebow and his team lost, but that game had the highest ratings for all NFL games this regular season. I have been considering a few things surrounding Tebow's rise.
1) I told my wife—I kind of feel bad for him. Not because he's outspoken about his faith in Christ. More so, is that I know that whenever people are outspoken like that, they will generate a lot of criticism—and constant scrutiny. People will try to look for holes in his armour. And the thing that the Bible tells me clearly, is that "all have sinned and fallen short of the glory of God" (Romans 3:23). If you want to find fault—whether it is with Tebow or any other Christian—after a thorough search, you can find it. No one is perfect—whether you are Christian or not. A Christian doesn't claim to live the perfect life. Being Christian is partly an admission that you're a sinner in need of a Saviour—Jesus Christ—who forgives, and who you can know personally.
Some people not only want to criticise outspoken people, and scrutinize their every action—but they will try to bring them down precisely because they have taken such a bold stand for their faith in Christ. Sometimes it's because of jealousy, or because they have a different view on life, or various other reasons.
We see it in the Bible—the prophet Daniel was not only successful in all that he did, but was utterly committed to his faith in God. And what happened? People around Daniel wanted to bring him down—he was ultimately put in a lion's den (see Daniel 6). John the Baptist was quite outspoken, and he was ultimately beheaded (see Mark 6). Of course, Jesus was quite outspoken, and what did the religious leaders want to do? Bring him down—we know what happened to Jesus.
2) I also remember thinking to myself while watching Tebow play against the Patriots a few weeks ago—will prayers help Tebow win? Because if he wins, maybe more glory goes to God, especially since Tebow's so outspoken about Christ? But as I thought that, I remembered that winning in life does not always lead to God's best. It can sometimes—but not always.
Often, it is "losing those games in life" that ultimately produces the quality of person God is hoping for us. Sometimes "losing" is "winning." The Apostle Paul wrote that we should "glory in our sufferings, because we know that suffering produces perseverance; perseverance, character; and character, hope" (Romans 5:3-4). In the case of those stories in the Bible I mentioned above, we know that from eternity's perspective, though they went through trials, things ultimately turn for good.
So why my title for this blog? "Tebowing for all the Tebows out there?"—praying for people like Tebow? It's just to remind us, that those who live outspoken for their faith—whether it is Tim Tebow, a Christian leader, or your friend—need your prayers. They are human, and thus imperfect—and they are often the ones people are looking to criticise, scrutinize, and ultimately bring down. So prayer for such people is not merely about "winning every game." More so than that, is about asking God to strengthen them to be all God wants them to be in the midst of their "wins" and "losses."
Thanks for reading, always a pleasure to hear from you!
Josh Samuel
P. S. If you switched from the old email subscription to the new one, thanks! If you receive email updates regularly from my blogs, but haven't made the subscription change yet, check my last post: Email Subscription Change.
6
Stephen Samuel was born into a prominent Pentecostal minister's family in India. His father, Rev. P. M. Samuel (1903-198I), was one of the pioneers of the Pentecostal movement in India and served as the first president of the Indian Pentecostal Church of God (IPC), one of that country's largest Pentecostal denominations.
Stephen's family experienced both challenges and blessings. Early in his ministry, his father lived in such poverty that one of his sons died in his arms due to the lack of food. Yet his father eventually oversaw hundreds of churches in the state of Andhra Pradesh, India, where there had been no Pentecostal churches until he brought the Pentecostal message to that area. He ministered throughout India and around the world and witnessed God's power at work.
At the age of 18, Stephen went to Germany to study. He enjoyed his time there and was involved in church ministry. While there, Stephen discovered a number of letters directed to some German pastors who supported his father's ministry. These letters were from a few jealous pastors associated with Stephen's father in India and contained gossip and lies about his father's ministry.
After two years in Germany, Stephen went back to India. At a large annual convention led by his father in Andhra Pradesh, Stephen came across one of those jealous pastors and confronted him. This pastor was upset with Stephen, but did not respond directly – not then at least.
One day during the week-long convention, Stephen came across a group of leaders engaged in a heated discussion. Later he was confronted by a gang armed with bats, ready to beat him. There was a great uproar, and an accusation was levelled at Stephen that he had threatened a pastor with a gun. Although Stephen denied it, some leaders argued that unless he apologized for his threat they would disrupt the convention.
Stephen saw his father praying and crying. Witnessing his father's tears, he decided he would comply. So in order to appease some of the leaders and bring calm to the convention, he apologized in front of 3,000 people for something he never did.
Though calm did settle upon the convention, the experience left Stephen feeling bitter and angry toward Christians—and ultimately toward Christ. Reconciliation took place within months between his father and those pastors who caused the turmoil, but Stephen was unwilling to do the same.
That same year, 1963, Stephen met and married Molly. He was attracted to her beauty and musical talent. Little did he know that she was passionate about her relationship with Christ. They eventually had three children: Jenny, Jasmine and Josh.
Sadly, much of Stephen's anger toward Christians was directed at Molly. He not only burned his own Bible, but tore up his wife's Bible too. This mistreatment affected all aspects of their relationship. Stephen's children also experienced the effects of his bitterness since they, too, sought to follow Christ.
In April 2007, Stephen and Molly attended a friend's funeral. While sitting in the car waiting to go to the cemetery, Stephen suffered a stroke and lost control of half his body. An ambulance was called. His wife, family, and friends prayed for him as they waited. When the ambulance arrived, he regained his consciousness. He received treatment at the hospital, and everyone hoped for the best. One of the doctors, though, said that he would be permanently paralyzed.
After a number of days in the hospital, Stephen returned home. To his wife's amazement, he let her pray and read the Bible with him on a daily basis. Stephen began getting physically better as the days went by. One day Molly asked Stephen if he would pray too, but he said no. She continued to ask and one day he finally agreed to pray, but only to a generic "God." She continued to talk to him about God, the Bible, and his need to follow Christ. Finally, it happened— he prayed and made a decision to follow Jesus Christ! While Stephen's physical health has improved to the point where he is able to do all that he did before the stroke, his spiritual health has changed even more dramatically.
By now you may have realized that Stephen is my dad. From personal experience I can tell you: he has changed! So much so, we have had to learn how to relate to him afresh. Why? Because he is truly a new person! To everyone's amazement, we regularly hear his quiet yet passionate voice in our home as he prays to God. Our entire family can truly affirm what the Apostle Paul wrote: "Therefore, if anyone is in Christ, he is a new creation; the old has gone, the new has come!" (2 Corinthians 5:17, NIV).
My dad admits he has lost many years, but he's doing all he can to reclaim them. He is studying God's Word and seeking God in prayer for his family, his friends, the world, and himself. My dad has also had a change of heart about his past. Whereas he used to live with bitterness, now he has forgiven those who hurt him.
Don't give up on that person you are praying for. Our family has seen that, with God, all things are possible! And if you want to make a change like my dad, seek Christ because He's worth it (and I would be happy to pray for your situation as well, feel free to contact me).
[This is an article I wrote with my family's support, including my dad. It was originally published in the magazine, Testimony, on January 2009; and later posted on Christianity.ca.]